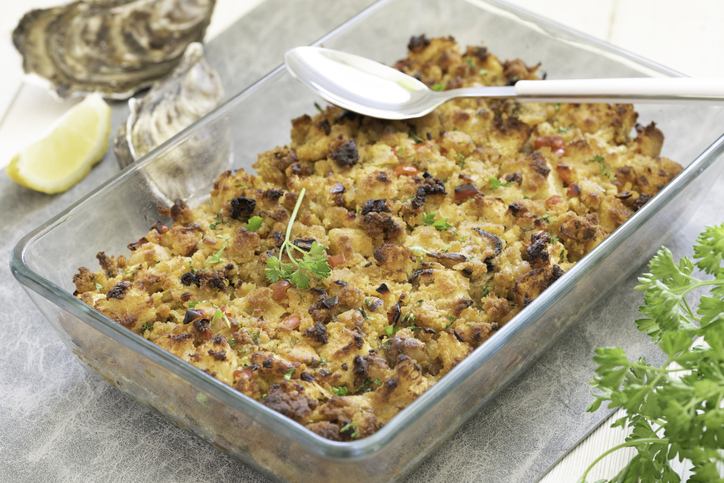 Even if you're not a big fan of Thanksgiving dressing, you'll love this recipe. You can find many different options for oyster dressing, but none of them compare to this. The flavors will enhance every dish you place on the table. You can make something for your family this year that they'll love.
Reasons to Make Oyster Dressing This Thanksgiving
Whether you make dressing every Thanksgiving or this is your first time, you won't disappoint with this recipe. Remember, many people visit multiple family members and friends during this time of the year. That means they eat pretty much the same meal several times. Instead of duplicating what everyone else does, step outside of the box. Along with spicing up your turkey, consider serving this excellent oyster dressing.
Required Ingredients
To make the most delicious oyster dressing, you'll need the following ingredients.
Two 16-ounce cans of shucked oysters (drained and liquid reserved) or a pint of fresh oysters (chopped and liquid reserved)
3 cups of sourdough bread (slightly stale and cut into bite-sized pieces)
2 cups cooked cornbread (slightly stale and crumbled into bite-sized chunks)
12 tablespoons salted butter (divided)
1 cup onions (chopped)
1/2 cup celery (chopped)
1/2 cup green pepper (seeds and stem removed, diced)
1 cup of Andouille sausage (chopped into bite-sized pieces)
Two garlic cloves (minced)
1/2 cup fresh parsley (chopped)
1/2 cup chicken broth
You might also like: Taste Cajun Fare At Boudreau & Thibodeau's
Cooking Instructions
To make this yummy oyster dressing, follow these instructions.
Set the oven to 350 degrees. While it preheats, spread the pieces of sourdough bread on a baking sheet. Then bake them for roughly 10 minutes or until the top is slightly toasted. Set this aside so that the bread can cool.
Melt six tablespoons of butter in a pot, and then add the chopped onion, celery, and bell pepper. Sprinkle in a dash of salt and pepper. Sauté and stir the vegetables for six to seven minutes or until tender. Next, add the garlic to the pot but only cook for about 30 seconds. Add 12 ounces of chicken broth and the reserved oyster liquid. Then put the oysters, but only cook them long enough for the edges to curl.
Toss the sausage and parsley into the pot and cook for another two minutes. Remove the pot from the stove. This is when you'll add the toasted sourdough bread and the chunks of cornbread. Stir well to combine all the ingredients. If the dressing is too soggy, add some extra bread pieces. If it's too dry, add two tablespoons of chicken broth.
After greasing an 8×8 baking dish, fill it with the oyster stuffing. Drizzle the remaining six tablespoons of butter on top. Bake for approximately 30 minutes or until the top of the dressing turns golden brown. Before serving, let the dressing rest for 15 minutes.
Disclaimer: The stock image is being used for illustrative purposes only, and it is not a direct representation of the business, recipe, or activity listed. Any person depicted in the stock image is a model.