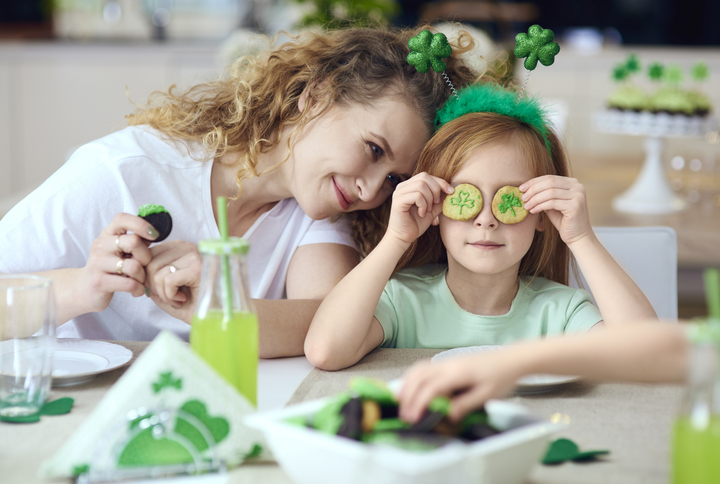 Typically, people invite friends over or go out to celebrate St. Patrick's Day. However, why not do something different this year? You can make this an incredible family event that everyone will enjoy. Here are some great ideas to make the occasion memorable.
Make an Irish Meal
If you prefer to stay in to celebrate St. Patrick's Day, why not prepare a delicious Irish meal? After all, you can keep up with the tradition of celebrating the holiday with a home-cooked meal rather than eating out. For this, you could make traditional corned beef and cabbage. Potato soup from scratch and shepherd's pie are also great options. Don't forget about making braised greens as well.
DIY Leprechaun Traps
Especially if you have younger children, here's an opportunity to help their imaginations run wild. After all, leprechauns like to hide, so make traps to catch them. Now, the only things you'll need are some markers, craft paper, child-proof scissors, and embellishments that you'd like to add. You can find instructions online or come up with a design.
Family Scavenger Hunt
Not only is this something the kids will love but also the adults. The goal is to make a list of St. Patrick items. For instance, anything green, stickers, chocolate wrapped in green paper, and so on. Then, hide the various items throughout the house. In addition, you can make the scavenger hunt more exciting by handing out a prize to the person who collects the most items from the list.
Make Irish Treats
As you can imagine, you can choose from hundreds of ideas. However, two that always taste great are Leprechaun bark and Irish Shakes. For the latter, all you'll need is vanilla ice cream, milk, green food coloring, mint flavoring, whipped topping, and green sprinkles. For this, blend the ice cream, a little milk, and a few drops of food coloring and mint flavoring. Then, top each shake with whipped topping and some sprinkles.
Leprechaun Tree
Similar to a Christmas tree, this entails making one that focuses on St. Patrick's Day. First, you can purchase a small artificial tree or use one you already have on hand. Second, you can construct one from green construction paper. Then, let the kids go wild decorating it with store-bought items or crafty things they make.
The Best Costume
You and your family can dress to the nines wearing green items. However, here's the fun part. You can't buy anything new. Instead, everyone will go through their dresser drawers and closets to create a one-of-a-kind look. For added fun, take everyone to lunch in their finest St. Patrick's Day attire.
Invite the Entire Family Over
Choose a family-friendly movie and put out a spread that consists of different green foods or traditional Irish dishes. You can make a yummy dessert. Also, you could make a platter of fruits served with a sweet cream cheese dip with a few drops of green food coloring added.
You might also like: Enjoy Seafood And More At Melvin's
Decorate the House
Just as you do for Halloween, Thanksgiving, and Christmas, decorate your house with various Irish-themed décor. Even if you're on a budget, you can find all sorts of things at a local dollar store.
Disclaimer: The stock image is being used for illustrative purposes only, and it is not a direct representation of the business, recipe, or activity listed. Any person depicted in the stock image is a model.